Nokia Wordwide Unlock by Cable or HASH
Tutorial HASH READ
http://uboxserver.net/EN/tutorialesUboxPro/TutorialSL3BruteForce.aspx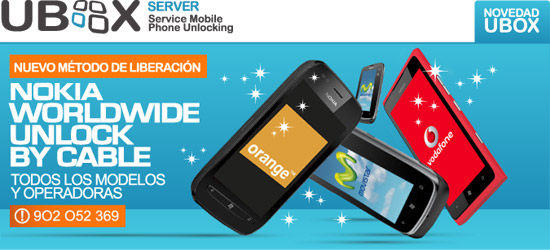 ---
NUEVO MÉTODO DE LIBERACIÓN UBOX
Te informamos de este nuevo método de liberación para todos los modelos y operadoras de Nokia del mundo. Como siempre con nuestra mejor calidad, precio y asistencia postventa. Contáctanos para que aclaremos tus dudas, estamos convencidos que te resultará interesante este nuevo método.
---
NEW UBOX UNLOCK SERVICE
Please note this new unlock method for all Nokia models and networks from all over the world. As always with our best quality, price and after sales support. Contact us to resolve your doubts, we are convinced that you will find interesting this new method.
---
Si tiene cualquier duda sobre alguno de nuestros servicios póngase en contacto con nuestro equipo de soporte
If you have any doubt with our services, please contact with our support team
Only need UBOXPRO! go to CABLE SECTION!: and press " DO JOB " en 24 hours, your CODE is READY!.
WINDOWS PHONE - NOT SUPPORTED
NOKIA LUMIA NOT SUPPORTED
20 DIGITS is DETECTED !
       >>>>>>>>> NEVER  credits! LOST,, >>>>>>>
NOTE:
1) Please check SECURITY TEST and SIMLOCK TEST.In case if You do not check it and code will not be found - we are not responsible.

2) Please check 'simlock status' to verify code counter (if there is no 3/3 and 10/10). If it is locked then You cannot enter code manualy (3 tries). There are also 10 tries to enter code via FBUS cable.

3) It is NOT possible to calculate 20-digits code (for example X3-02, C2-01), so please kindly check it also.

4) Telcel phones does NOT accept any level NCK codes. However, you can BF it and get correct unlock codes. But phone will not accept it. Please check if your phone are nof from provider 33402 - Telcel Mexico (Simlock Key 3340201549764300) before sending to us data.

Supporting Nokia Infineon X-Gold213 Model:
- C1-01 (RM-607)
- C1-01.1(RM-608)
- C1-02 (RM-607)
- C1-03 (RM-607)
- C2-00 (RM-704)
- C2-02 (RM-692)
- C2-02.1 (RM-693)
- C2-03 (RM-702)
- C2-05 (RM-724)
- C2-05 (RM-725)
- C2-06 (RM-702)
- C2-07 (RM-692)
- X2-05 (RM-772)
- Nokia Asha 200 (RM-761)
- Nokia Asha 200 (RM-762)
 
Supporting Nokia Broadcomm Model:
- C3-00 (RM-614)
- X2-00 (RM-618)
- X2-01 (RM-709)
- X2-03 (RM-709)
- X2-01.1 (RM-717)
- 2710c (RM-586)
- 2710b-2 (RM-586)
- 7020 (RM-497)
 
Supporting Nokia RAP3GV4 Model:
- 3710a-1 (RM-509, RM-510)
- 3710f (RM-509)
- 3710a-1b (RM-510)
- 3711a (RM-511)
- 3711a-1 (RM-511)
- 5330 (RM-479/478)
- 6303ci (RM-638)
- 6303i (RM-638)
- 7230 (RM-598/604)
- C2-01 (RM-721)
- C2-01 (RM-722)
- X3-00 (RM-540)
- X5-01 (RM-627)
 
Supporting Nokia RAPUYAMA v11 Model:
- 5630 (RM-431)
- 5730 (RM-465)
- 6700 Classic (RM-470)
- 6700 Slide (RM-576)
- 6710 Navigator (RM-491)
- 6720 Classic(RM-424)
- 6730c-1 (RM-547, RM-566)
- 6750 Mural (RM-381)
- 702T (RM-730)
- C3-01 (RM-640)
- C5-00 (RM-645, RM-688)
- C5-02 (RM-745)
- C5-03 (RM-697)
- C6-01 (RM-601)
- C7-00 (RM-675)
- E52 (RM-469)
- E55 (RM-482)
- E5-00 (RM-632)
- E6 (RM-609)
- E7-00 (RM-626)
- E72 (RM-529, RM-530)
- E73 (RM-658)
- N8 (RM-596)
- X3-02 (RM-639)
- X5-01 (RM-627)
- X7-00 (RM-707)
 
Supporting Nokia RAPUYAMA v21 Model:
- Nokia Asha 201 (RM-799)
- Nokia Asha 201 (RM-800)
- Nokia Asha 300 (RM-781)
- Nokia Asha 302 (RM-813)
- Nokia Asha 303 (RM-763)
- Nokia Asha 311 (RM-714)
- Nokia 500 (RM-750)
- Nokia 600 (RM-701)
- Nokia 603 (RM-779)
- Nokia 700 (RM-670)
- Nokia 701 (RM-744)
- Nokia 808 PureView (RM-807)
- C3-01.5 (RM-776)
- X3-02.5 (RM-775)
 
Supporting Nokia RAPIDO Model:
- C6 (RM-612)
- E52 (RM-244, RM-426)
- E63 (RM-437, RM-449, RM-450, RM-600)
- E66 (RM-343, RM-345, RM-420, RM-494)
- E71 (RM-346, RM-347, RM-357, RM-407, RM-462, RM-493)
- E75 (RM-412, RM-413)
- 5250 (RM-684)
- 5230-1b (RM-593)
- 5230-1b (RM-594)
- 5230 (RM-588)
- 5320 (RM-409, RM-417)
- 5530 (RM-504)
- 5730s (RM-465)
- 5800d-1 (RM-356)
- 6110 Navigator (RM-122)
- 6120C (RM-243)
- 6220C (RM-328)
- 6290 (RM-176)
- 6650 (RM-400)
- 6760s (RM-573)
- 6790s-1c (RM599)
- 6790s (RM-492, RM-559)
- N78 (RM-235, RM-236, RM-342)
- N79 (RM-348, RM-349, RM-350)
- N81 (RM-179)
- N81-8GB (RM-223, RM-256)
- N82 (RM-313, RM-314)
- N85 (RM-333, RM-334, RM-335)
- N86 (RM-484, RM-485)
- N97-1 (RM-505)
- N97-3 (RM-506)
- N97-4 (RM-507)
- N97mini (RM-555)
- N97mini (RM-553)
- X6 (RM-551/559)
1280 - RM-647
1616-2b - RH-126
1616-2c - RH-129
1616 - RH-125
1800 - RM-653
2690 - RM-635
2700c, 2700c-2 - RM-561
2730c-1, 2730c - RM-578
2730c-1b - RM-579
3600s - RM-352
3710a-1 - RM-509
3710a-1b - RM-510
3711a-1 - RM-511
3720c-2 - RM-518
3720c - RM-518
5130, 5130c-2 - RM-495
5130c-2 - RM-496
5228, 5230, 5232, 5233 - RM-588/593/594/625/629
5310 Xpress Music - RM-303
5530 - RM-504
5630 Xpress Music - RM-431
5630d-1 - RM-431
5730s-1 Xpress Music - RM-465
5800d - RM-356/428
6120c - RM-243
6300 - RM-217
6303c - RM-443
6303ci - RM-638
6500c - RM-265
6500s-1 - RM-240
6700c-1, 6700c - RM-470
6700s - RM-576
6710s navigator - RM-491
6720c - RM-424
6730c-1 - RM-547
6750 Mural - RM-381
6760s - RM-573
6790s - RM-492/599
7210c, 7212c - RM-436
7230 - RM-604
Asha 200 - RM-761
Asha 200 - RM-762
Asha 201 - RM-799
Asha 201 - RM-800
C1-01 - RM-607
C1-01 - RM-608
C1-02 - RM-643
C1-02 - RM-644
C2-00 - RM-704
C2-01 - RM-721
C2-02 - RM-692
C2-02 - RM-693
C2-03 - RM-702
C2-05 - RM-724
C2-05 - RM-725
C2-06 - RM-702
C2-07 - RM-692
C2-08 - RM-702
C3-01 - RM-640
C5-00 - RM-645
C5-02 - RM-745
C5-03 - RM-697
C6-00 - RM-612/624
C6-01 - RM-601/718
C7-00 - RM-675
E5-00 - RM-632
E52-1 - RM-469
E55-1 - RM-482
E63 - RM-437/450
E66 - RM-343/345/420/494
E7-00 - RM-626
E71 - RM-346/347/357/407/493
E72-1 - RM-530
E72-2 - RM-529
E73 - RM-658
N8-00 - RM-596
N86 - RM-484/485/486
N97-4 mini - RM-555
N97-5 - RM-553
N97 - RM-505/506/507
Nokia 500 - RM-750
Nokia 600 - RM-701
Nokia 700 - RM-670
Nokia 701 - RM-744
X2-02 - RM-694
X2-05 - RM-77
X3-00 - RM-540
X3-02 - RM-639
X5-01 - RM-627
X6-00 - RM-551/559